London Design Week 2023
March 17, 2023
Spring has sprung at design centre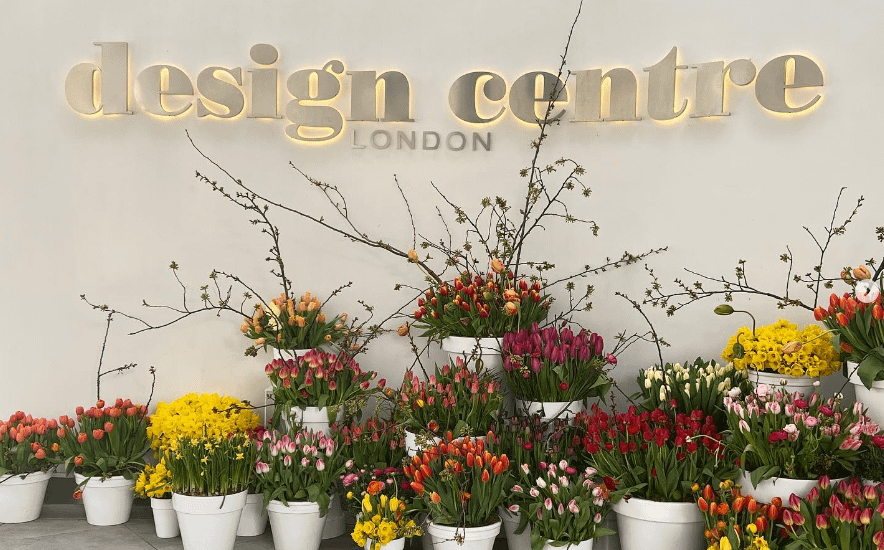 Design Week 2023 was a huge success, and the excitement in the design community was electric. From March 13th to the 17th, the Design Centre Chelsea Harbour was buzzing with the latest trends, innovative ideas, and cutting-edge products from the world of design. The immersive experience was enjoyed by design enthusiasts and professionals alike, with a plethora of events, exhibitions, and installations to explore.
Visitors to Design Week had the opportunity to see firsthand the craftsmanship and attention to detail that go into each piece from Turnstyle Designs whilst visiting the showroom on the first floor of Design Centre East. 
No one could miss the beautiful, spring flowers on display at the entrance and throughout the design centre. A feast for the senses with the fragrant scents of fresh blooms filling the air and the vibrant colors created a visual spectacle.  
If you missed Design Week 2023, be sure to mark your calendar for next year's event. With so much to see and do, including the Turnstyle Designs showroom, you won't want to miss out on this exciting and inspiring event of the season.
design week 2023
design
innovation
inspiration
exploration
Design Week 2023 was an unforgettable experience that left visitors feeling inspired and awed. Let's take a closer look at some of the event's highlights.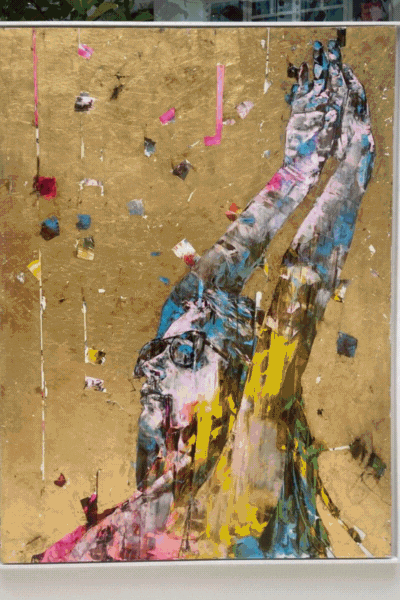 One of the most visually stunning displays at Design Week 2023 was undoubtedly the HOFA Gallery exhibit. The HOFA Gallery is a renowned contemporary art gallery based in London, and their display at Design Week was a true work of art in its own right. The exhibit showcased a range of contemporary artwork, from sculptures to paintings and mixed media pieces, all carefully curated to create a cohesive and thought-provoking display.
The HOFA Gallery exhibit featuring pieces from artists Ilhwa Kim, Zhuang Hong Yi, Marie Pol and Lyes was a must-see for anyone interested in the intersection of art and design, leaving a lasting impression on visitors.
The iconic American fashion brand showcased their latest collection of luxurious home furnishings, which seamlessly blended classic design with modern touches. From sumptuous bedding to elegant furniture pieces, the Ralph Lauren showroom was a masterclass in sophisticated style.
 Visitors to Design Week were treated to a sensory experience as they explored the stunning showroom, which was designed to evoke the feeling of being in a luxurious Ralph Lauren home.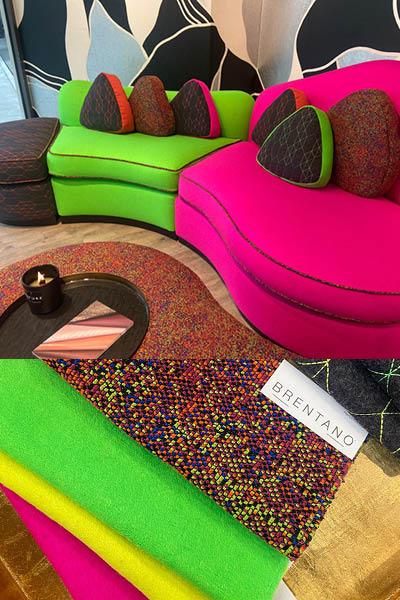 The Brentano Design Studio, led by Iris Wang has grown from 8 patterns in 1990 to a global source for residential, hospitality and commercial fabrics and wallcoverings. They now offer luxurious vegan leathers, indoor/outdoor options, stain-resistant finishes, and eco-friendly textiles.
The neon green and pink fabric from the Machu collection was energetic and vibrant mixed with the bold graphic of Picchu was on display as a stand-out piece in the window of Altfield Showroom on the 2nd Floor, Centre Dome.
Temperley London x Romo is a dreamlike collection of fabrics, wallcoverings, trimmings, and cushions. The partnership between Alice Temperley MBE and Emily Mould of The Romo Group transformed fashion pieces into interior masterpieces, capturing intricate details in shimmering metallics and delicate embroideries.
Alice's wonderland comes to life in Temperley's new collections, featuring striking wallcoverings, indulgent velvets, fluid satins, and luxurious weaves adorned with leaping leopards and mischievous monkeys. Playful opulence is showcased through a haberdashery of trims, while an eclectic range of cushions adds to the eccentricity of the collection.
And let's be honest, who doesn't love a disco ball?!
The London Basin Company was born out of a love for vintage-inspired design. Mother and daughter interior design team, Anna and Nathalie, drew inspiration from a range of sources, including old porcelain, fabric archives, wallpaper, antiques, and unique finds from their travels.
Their handcrafted countertop basins are the perfect antidote to cold, characterless bathrooms. Each basin is adorned with breathtaking patterns and delicate detailing, bringing a touch of whimsy and luxury to any space. With designs ranging from Japanese Koi Carp to flower baroque, spherical shapes, and scalloped-edges, there's a basin to suit every taste. 
The newest collection 'Lucia'  is diversifying from porcelain and introducing hand-cut bohemian crystal basins for the real wow factor.
Modern British is a design and manufacturing company located in Hampshire that creates a wide range of furniture, including fitted kitchens and bedroom sets. With a focus on producing exceptional quality, handmade products that incorporate innovative design and sustainable practices while reflecting a distinct style.
Providing a comprehensive service that covers the entire process, from design to installation  including supplying worktops, splash-backs, and appliances. They cater to both individuals and trade partners.
Their collection features a variety of styles, such as contemporary and traditional in-frame kitchens, all of which showcase distinctive solid wood designs
Experience the craftsmanship of hand-stitched hardware. When you visit our London showroom on the first floor of Design Centre East.
Upon exiting the lift you'll be greeted by our new display case designed around the art of hand stitched. See the tools and materials we use to create our beautiful, hand stitched, Italian bridle leather.
Make your way to our showroom just around the corner to view the largest collection of Turnstyle Designs on display anywhere in the world. 
As you arrive on the First Floor of Design Centre East, you'll find many luxury showrooms encompassing everything interior design.

Visit our london showroom
The most comprehensive display in the world can be found in our London Showroom. With our entire range of products, designs and collections, you can bring your vision to life. Start choosing the perfect finish combinations and build your own unique product.
Share your Turnstyle Designs Hardware to be featured on our socials.