Living vs lacquered solid brass
July 30, 2021
Why we only use the best, unlacquered brass.
For 30 years we have manufactured the finest luxury brass cabinet, and door hardware, from our Devon factory, in the UK and where possible we source our brass from Europe. All our hardware is designed in-house from start to finish, made-to-order, and then hand finished by a team of talented artisans. Brass is the base and provides a resilient backbone for our designs, allowing us to freely build unique shapes and grip designs.
Brass has been used in the manufacture of door handles for centuries, attesting to its durability and usability. We employ many methods of manufacturing including, milling, turning, extruding, hot stamping and forging to name a few. We only use unlacquered brass to apply these different processes are applied depending on what we are trying to achieve. To assess why we have chosen brass, it is important to know what the alloy is all about. Brass is comprised of copper and zinc, it is non-ferrous (meaning it will not rust) so can be used inside or out, and when applying various methods, it will provide an extensive range of coloured finishes. Alternative metals used for hardware, such as bronze or stainless steal, have limited finish capabilities or options.
For us solid brass hardware is a must, trying to decide between a living finish and a lacquered finish for your door or furniture hardware, can be a challenge. A living finish will give you a look that develops over time and with use, whereas a lacquered finish will remain the same. Un-lacquered brass is raw brass that is purposefully left un-sealed to allow for natural oxidation to take place. 
However lacquered brass has a thin coating of a varnish that can be applied by spraying or brushing. You can easily wipe lacquered brass down to keep the surface clean, but you cannot polish it. This thin layer of varnish is however vulnerable and can be worn off or scratched up if it is touched frequently. From these tiny areas of contact, tarnish can spread under the surface of the lacquer, trapped and will be impossible to reach or clean. This could lead to needing to replace the hardware. For this reason, we have chosen to avoid this kind of lacquered brass and prefer the natural qualities of un-lacquered brass.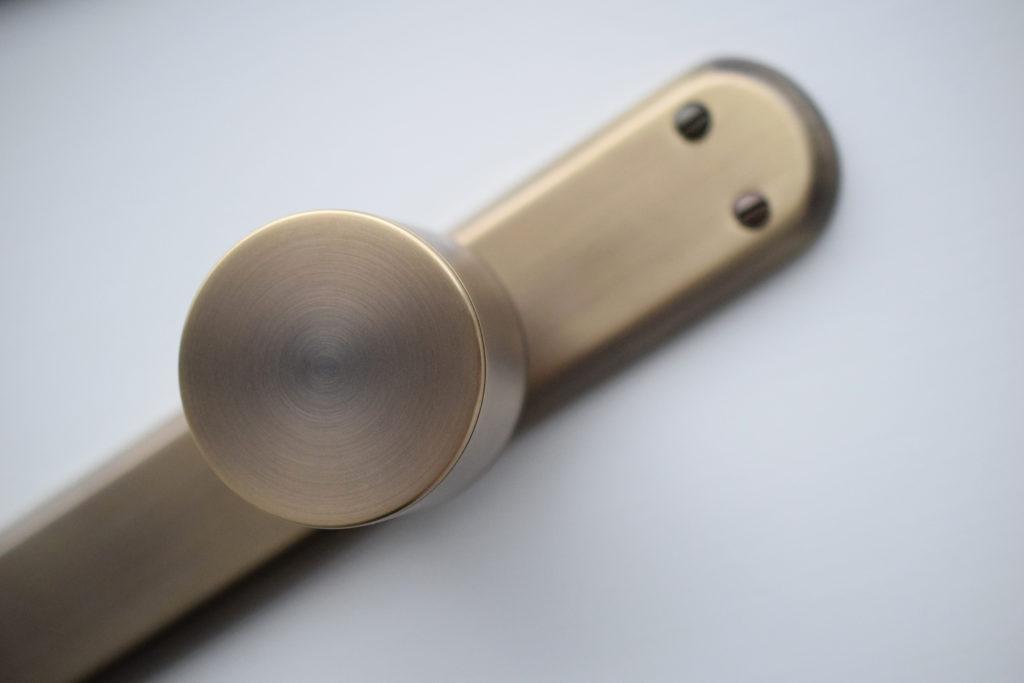 Depending on what is in the air, such as your proximity to the sea, brass will tarnish over time and if you are happy to let the brass "live", it will develop a beautiful rich patina, with highlights where it is handled the most. If you like your brass clean and shiny it will need more of a regular cleaning, but a light Brasso polish as needed. As well as offering a range of patinated finishes on the natural brass we also offer electro plated finishes from Polished Nickel to Matt Black Chrome.
It is worth taking time to find lasting, sustainable products, while solid brass hardware can cost more than aluminium or plated steel, unlike other metals, it will not rust, corrode, or need to be periodically replaced. It will not only give your hardware lifetime reliability, but it will also end up saving you money. Brass also possesses natural antibacterial properties that kill harmful microbes, unlacquered brass is a fitting hardware solution for spaces in food or medical industries, something certainly helpful these days.
We have chosen solid, unlacquered brass for its quality and living qualities. Our designs are sustainably long lasting, and we guarantee you will find the best solid brass furniture and door hardware with us.