5 Reasons you should visit our London Showroom
July 26, 2023
Turnstyle Designs The
Fitters
Interior Designers
Architects
Furniture Makers
Designers
Choice
5 Reasons to Visit Our London Showroom at Design Centre Chelsea Harbour
The Most Comprehensive Display in the World
Step into our showroom and immerse yourself in a world of luxury and creativity. With our entire range of products, designs, and collections on display, you have the freedom to bring your unique vision to life.
Explore an array of finishes and combinations to curate your personalised masterpiece.
Whether you seek a touch of opulence or contemporary elegance, we have something to cater to every taste and style.
Experience the art of design at its finest.
The Power of Touch: Feel the Design
At Turnstyle Designs, we understand that true luxury lies in the details. That's why we painstakingly craft each product to not only look stunning but also feel exceptional in your hands. To truly appreciate the beauty and quality of our offerings, we invite you to interact with them in person.
Feel the smoothness of the handles, the weight of the materials, and the precision of the craftsmanship.
Seeing is believing, but touching is experiencing.
Personalised Expert Assistance: Talk Face to Face
Our dedicated team of experts are stationed at our London showroom, ready to guide you through your design journey. Whether you need advice on selecting the perfect piece or assistance in customising a product to match your vision, we're here to help.
Visit us during our showroom hours from Monday to Friday, 9.30 am to 5.00 pm, or schedule an appointment with our sales team for a more personalised experience.
Pop in or book your appointment here 
A Design Oasis: Design Centre Chelsea Harbour
Make your showroom visit an extraordinary experience by exploring the iconic Design Centre, Chelsea Harbour. Housing over 120 other showrooms and hosting events throughout the year, this creative hub is an endless source of inspiration. Discover a world of design innovation that complements your aesthetic sensibilities.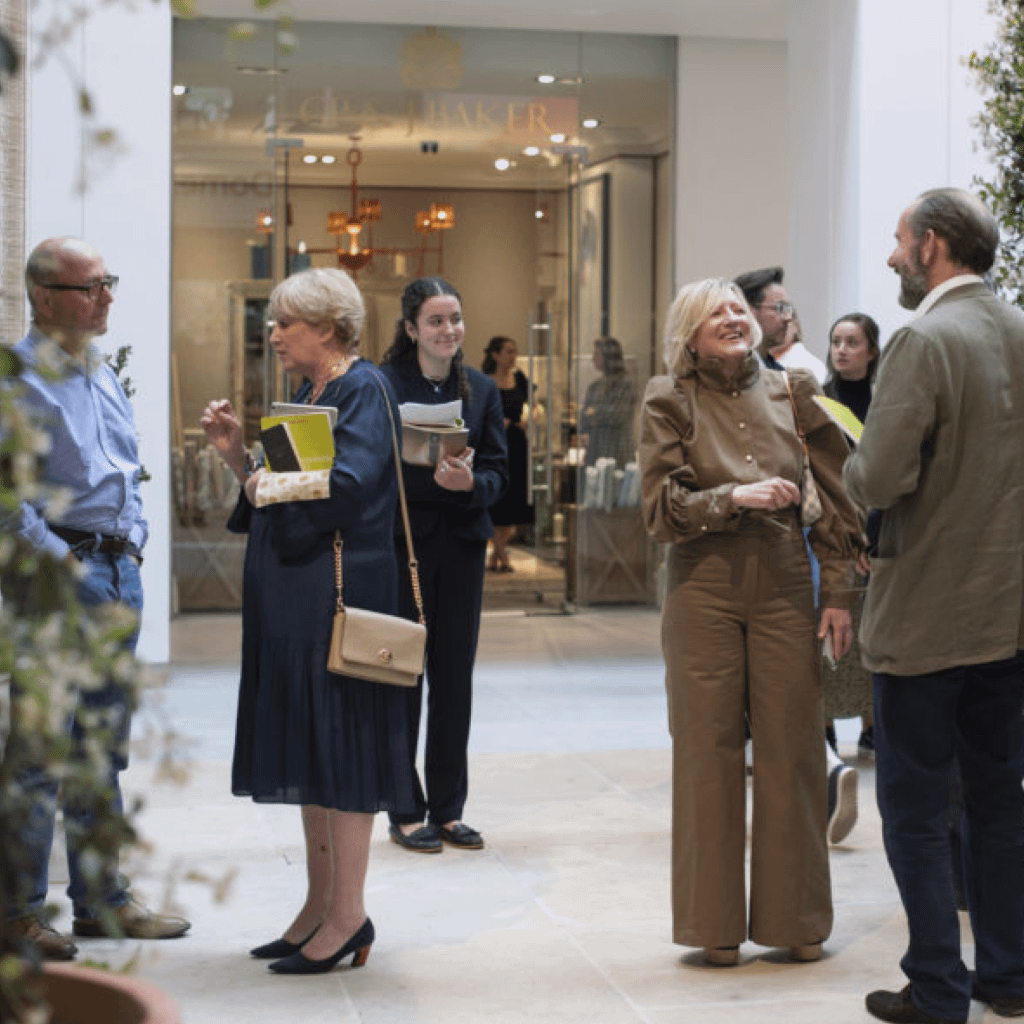 Networking Opportunities: Connect with Design Professionals
Our London showroom at Design Centre Chelsea Harbour isn't just a place to view stunning designs; it's a vibrant community of design enthusiasts. Engage in conversations with like-minded individuals and industry professionals, share ideas, and stay up to date on the latest trends. 
Attend events like #WOWhouse and #LondonDesignWeek to gain valuable insights and explore collaborative opportunities. 
Our showroom is the perfect hub for fostering meaningful connections within the design world.
Locating our showroom is hassle-free. Here are various transportation options:
By Train: Alight at Imperial Wharf, which offers easy links to mainline stations and the London Underground.
By Car: No congestion charge applies, and there's a secure underground carpark at DCCH for your convenience.
By Bus: C3, 11, and 22 buses conveniently stop nearby.
By Boat: For a unique experience, utilise the River Bus services, which run regularly from Chelsea Harbour pier.
Accessible for All: Our showroom ensures ease of access, with lift facilities available to all floors in both Design Centre and Design Centre East.
Experience the world of Turnstyle Designs first-hand at our London Showroom. Immerse yourself in luxury, creativity, and craftsmanship that will leave a lasting impression on your interior design journey. 
We can't wait to welcome you! 
OPENING HOURS 
Monday – Friday 9:30am-5:00pm 
Closed Saturday and Sunday
For further enquiries contact sales@turnstyledesigns.com or call the showroom on +44(0) 203 489 1040 
Turnstyle Designs The
Fitters
Interior Designers
Architects
Furniture Makers
Designers
Choice